A hyper-personalised ad-tech campaign for Diwali powered by Generative AI technology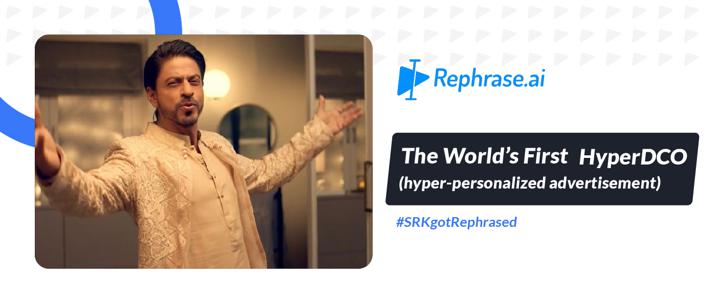 What's brewing
The festival of lights is right around the corner and just as people are getting ready to celebrate, brands are getting busy conceptualizing the most heartwarming ads possible for the festive season. This Diwali, Cadbury brings to you the second edition of Not Just a Cadbury Ad, an extension of their 2020 campaign to support thousands of small businesses and store vendors. Last year, the brand combined YouTube Pin Code Targeting, YouTube Director Mix, and Google Maps API to map local stores in India across 8 cities and then geo-targeted the customized ads promoting these stores locally. This gave 1800+ local retailers their personalized ads.
This year it goes a notch higher! The hyper-personalized message is embedded within the Cadbury ad instead of being a separate video, featuring the biggest superstar in the world- Shahrukh Khan! The ad has SRK's digital avatar take the names of local stores across four categories - Fashion, Footwear, Electronics, and Grocery stores, urging the viewers to shop from the small businesses and stores that surround them and make it a very happy Diwali for them as well. Curious to know how it's happening this time around? Read on!
Tech Specifications 
Rephrase has employed AI tools to create these hyper-localized ads for Cadbury Celebrations which involved in creating a digital avatar of Shahrukh Khan - cloning him five times, each for one category. What makes it even more interesting is the fact that it is happening on a pin code level, thus enabling the users/clients to use Rephrase's voice model and AI tech to create professional and quality hyper personalized ads featuring SRK for any store they like. This time around, the digital avatar has been cloned five times and is embedded within the Cadbury ad, taking dynamic creative optimization to another level.  
This campaign not only enables the small businesses to be featured in the Cadbury ads, but also empowers them to promote themselves through the creation of a platform where store owners across India, mapped through pin codes will be able to generate an ad featuring Shahrukh Khan, giving user-generated content a completely new dimension. And guess what, this isn't just limited to store owners but also covers non-store owners giving them the chance to also create an ad for their local store! Wondering where the user factors in, in this journey? Cadbury is going to launch a microsite where the user has to input their location, the store category, and name and their contact details which will navigate them to the personalized video featuring SRK which will then be shared with them as a file through WhatsApp. 
Why is it Prominent?
This time around since the ads feature clones of Shahrukh Khan who is the biggest star in the world, the collaboration, and creation of his digital avatar will be a reflection of Rephrase's tech and expand the potential of technology. Usually, Facebook and Google do not allow synthetic media-generated content for advertising - but with Rephrase they have pushed the envelope on what can be promoted. This comes as a big win for synthetic media and adds to Rephrase's credibility of presenting ethical and quality work.
This hyperpersonal campaign from Cadbury and Rephrase takes marketing to new heights of creativity where brands can employ tech and concepts to not just promote themselves but also contribute to the greater good by supporting small businesses and providing them with the platform they need to amplify their business. This one collaboration will not just be the world's first HyperDCO but also create a domino effect, attracting other potential clients to trust Rephrase with their tech and conceptualize and bring to life marketing campaigns like never before. 
With the ethical use of AI technology, there is a lot that can be achieved in the form of personalized branding and marketing and the sky's the limit!
Shoutouts
Lastly, to those who conceived this dream and worked hard to make it come alive! - the supercharged teams over at Ogilvy, Wavemaker and DeltaX whose dedicated focus and collaborative efforts made this ad what it is and claps for the Mondelez International team and the Cadbury Celebrations team for putting together a campaign of this stature. 
It was a real pleasure working on a one of a kind Diwali ad campaign with these teams. This campaign serves a perfect example of how creativity can be powered by technology to achieve great results!
---
Visit the Not Just A Cadbury Ad website to create your own hyper-personalized ad now!