"Nothing great was ever achieved without enthusiasm", said Ralph Waldo Emerson, the American philosopher.
His quote neatly embodies the core principle behind Rephrase.ai, and we are delighted to share that we are the winners of the Entrepreneurship World Cup India 2020, a testament to the viability of our product, a generative AI video creation platform!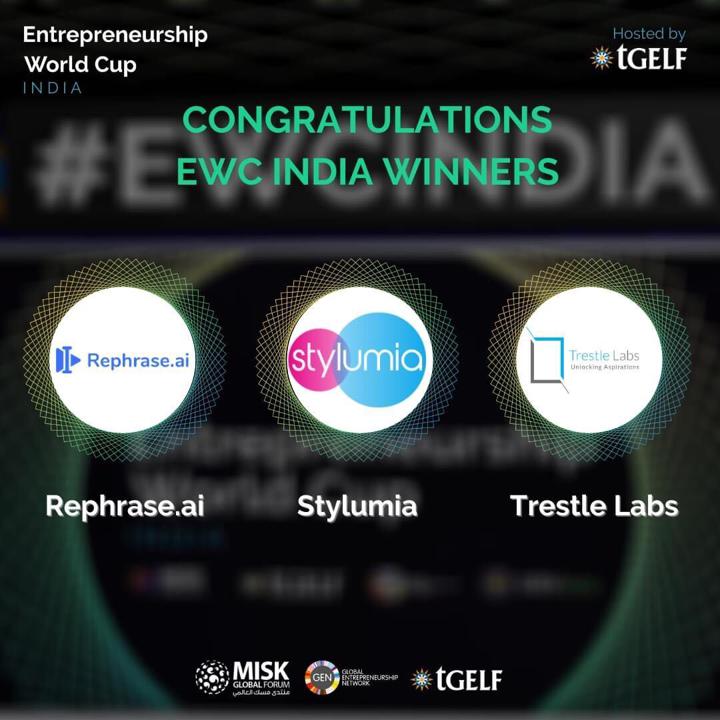 EWC India 2020, in association with The Global Education and Leadership Foundation (tGELF), and MISK Global Forum is in the second edition and is committed to supporting the entrepreneurial ecosystem, in India, and globally.
Rephrase.ai was one among 176,000 applicants globally, and 43,700 applicants from India; the EWC India 2020 had 150 experts from over 8 countries scrutinise business plans and we finally made it to the top 25 short-listed applicants!
The team worked hard to ensure our platform was ready to be presented to esteemed business and transformation leaders across the world, and we went through gruelling selection events, held virtually, and were heartened to move up into the final 10 participants.
As the competition picked up pace, more and more we assessed our ability to measure up to the competition's fundamental rating criteria:
1.    Product
2.    People
3.    Potential
4.    Predictability
The EWC India 2020 National Final was broken up into two sections:
1.    Round 1: 3-minutes to pitch the product
2.    Round 2: 40minutes in-depth Q&A session on business
Round 1 would see the elimination of five of the contestants with the final three being selected at the end of Round 2. Did we mention, the top three winners will participate in the EWC Global 2020 edition, to be held in October? Rephrase.ai is thrilled to be competing with similar game-changers! More on that later.
The panel of judges included:
1.    Raghunath Subramanian, Non-Executive Chairman, UiPath India
2.    Ritwick Ghosh, Vice President CDH Investments,
3.    Sangeeta Gupta, Senior Vice President, NASSCOM
Round 1 saw Ashray Malhotra, CEO and Founder of Rephrase.ai present our generative AI video creation platform through a very cool video, which you can watch here.
Round 2 saw our entrepreneurship mettle tested through a rapid-fire Q&A session led by the judges. Ashray substantiated the business's sustainability, commercial structure and revenue-creation strategy, target market and successfully addressed the ethics and privacy protection philosophies and practices embedded into the nature of our work and finally, we were asked to elaborate (quickly!) on the customer value and guarantees of outcome that we were securing our clients.
Happily, the judges vouchsafed and believed in our ability to deliver on our goal of enabling a technologically advanced, cutting-edge AI driven world of personalised emails!
With our inclusion into the EWC Global 2020, we are focusing hard on fine-tuning our platform features to deliver a seamless, integrative experience and are looking forward to humbly submit our offerings on a world stage, supported by the belief that Rephrase.ai fits EWC's requirement of entrepreneurship ideas that transform the world by solving pressing problems and creating social change, creating an innovative product or presenting a new, life-changing solutions.
What do we plan to do if we win the global edition?
Continue steadfastly, and with elation, to deliver on our belief that the world needs an easier way to create videos, while maintaining ethical principles.
Check out more of our platform at https://www.rephrase.ai/.